Pulse Heat Welding Machine
Concept:
The concept for Pulse Heat Welding Machine is quite simple. Low voltage, high amperage electricity is run through a metallic thermode that is designed to have higher electrical resistance along the soldering face. The electricity heats the thermode face to a predetermined temperature. Typically most thermodes are fitted with a thermocouple wire that feeds temperature information back to the soldering power supply. The soldering power supply is usually programmable to bring a thermode to a set temperature and hold it for a set amount of time. The thermode is brought into contact with the components to be soldered or bonded, and the heat reflows the solder. Different thermode materials produce different characteristics.
Features:
1. According to different products, the heating rate can be adjusted, head temperature could be controlled.
2. Thermode head of special materials to ensure the average pressure of heating. The Pulse Heat Welding Machine thermode can be long or short, max 100mm, and the compatibility of welding products is stronger.
3. Temperature numerical control, clear and precise, touch screen operation, Chinese and English display interface, PLC control, simple operation.
4. Up and down motion servo motor control, stroke accuracy + / - 0.02mm. Can weld 0.5mm pin pitch.
5. The up and down pressure can be controlled, and the anti pressure equipment must be installed first. Equipped with CCD alignment system.
6. The down pressure can be controlled at 0.1kg
7. Suitable for all kinds of high density tab, TCP crimping and FPC, FFC, TFT and PCB soldering.
Specifications:
| | |
| --- | --- |
| Machine size | 530×440×700mm |
| Working area | Max 150*150mm |
| Machine weight | 60Kg |
| Working air pressure | 0.6-0.8Mpa |
| Fixture quantity | 1 |
| Thermode head size | Max 80*8mm |
| Welding precision | pitch 0.2mm |
| Pressing time | 1~99.9s |
| Temperature settings | RT~500℃ tolerance ±5℃ |
| Welding pressure | 1~20Kg |
| Temperature settings | Two |
| Working environment | 10-60℃,40%-95% |
| Power supply | AC220V±10% 50HZ,2200W |
Customized Thermode and Fixtures: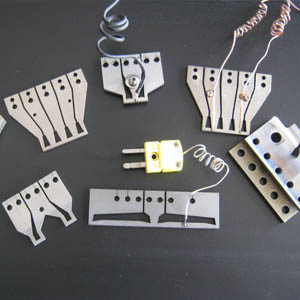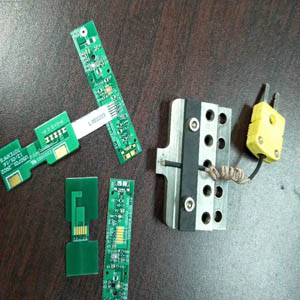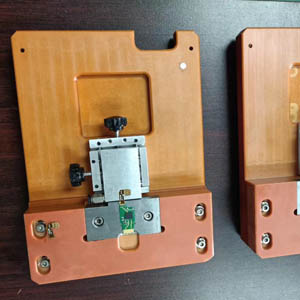 Thermode Head Introduction:
Molybdenum alloy head to ensure temperature stability, fast heating speed and long service life.
The level of soldering head is adjustable , to ensure uniformpart assembly processing.
Digital display to control temperature, easy and clear.
With digital pressure meter, can be preset pressure range.
Special welding materials
Pulse Heat Welding Machine is equipped with precise PID control, phase Angle instead of pulse drive.
Little vibration, low noise, no voltage fluctuation
Molybdenum alloy soldering head instead of traditional titanium alloy, warmmingfaster, good coefficient of heat transfer, wear-resisting
APPLICATION:
During Pulse Heat Welding process, a thermode is heated to a specific temperature by a pulse heat power supply. The thermode applies sufficient heat to cause the solder to melt and flow, after which the components are cooled under pressure, thereby creating an electro-mechanical bond between the two components. It is available for FFC to PCB soldering, FPC to PCB soldering, wires to PCB soldering, copper to copper soldering, ect.
Our Certificate: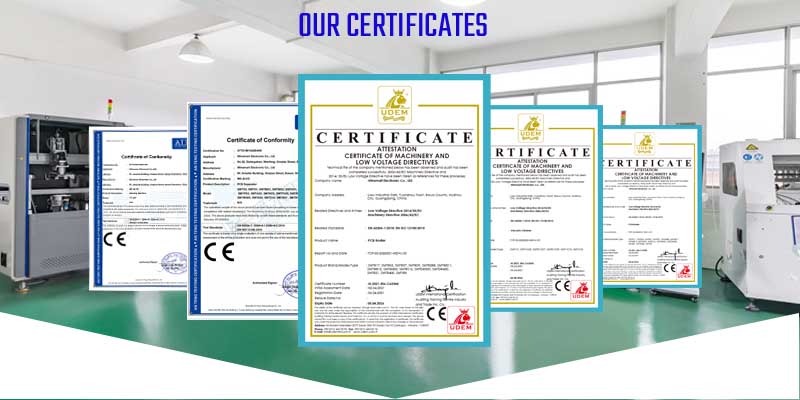 Company Profile:

2008, Dongguan factory established, and start producing standard v-cut PCB separators and hot bar soldering machines.
2010, Our products are widely sold in local market.
2012, Start producing customized v-cut depaneling and PCB router.
2014, Expand our sales team for providing better service to more customers.
2015, Start manufacturing laser depaneling machines.
2017, Start manufacturing soldering robot and screwdriver machines.
2018, HK company established.
2019, Huizhou factory established, due to expansion.
2020, Business expansion again, products covering PCB depaneling, PCB soldering, screwdriver system, etc.
2021, Our machines cover all Chinese market and also popular in America, Europe, South Asia, East Asia, etc.