Inline Multi Group PCB Cutting Machine For V-cut Boards

Inline Multi Group PCB Cutting Machine Description:
This is a double directions depaneling with horizontal and vertical boards to realize inline depaneling for "#" shape panels at one time. High automation, the PCB cutting machine can connect PCB loader and unloader, can be achieved without human, save labor. Touch screen operation, enabling quick product changing, PLC data storage capacity is 100 programs. One direction of depaneling is also workable, could set horizontal and vertical depaneling by touch screen, more intelligent. Dust cleaner is optional.
Inline Multi Group PCB Cutting Machine Features:
Workable for "#"shape depaneling.
Horizontal and vertical depaneling is optional.
Blade set can be quickly changed.
Could connect PCB loader and PCB unloader to realize fully automated production to save labor.
Simple operation, workers can operate it after training.
Unique new blade design, lifetime should be increased by 1.5-2 times.
Safety: Sensor is used to ensure safe production.
Inline Multi Group PCB Cutting Machine Specification:
Blade dimension
Circular blade:¢80 ¢60mm
Linear Blade: 356×43.5×6mm
PCB width
300mm(could be customized)
Driven mode
Stepping / Servo motor(optional)
V-cut angel
&gt 40°
Cutting speed
300-500/s
Blade material
High speed steel
Air pressure
0.5-0.8Mpa
Voltage
220/110V
Dimension
1250(1560)mm×800mm×1295mm
Packaging weight
300kgs
Our Certificate: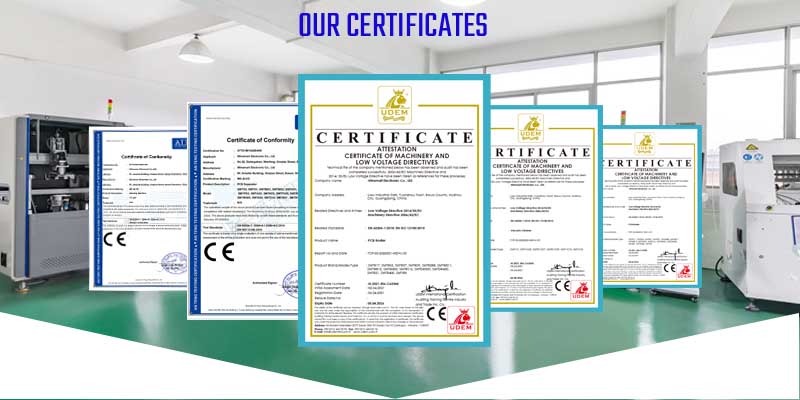 Company Profile:

2008, Dongguan factory established, and start producing standard v-cut PCB separators and hot bar soldering machines.
2010, Our products are widely sold in local market.
2012, Start producing customized v-cut depaneling and PCB router.
2014, Expand our sales team for providing better service to more customers.
2015, Start manufacturing laser depaneling machines.
2017, Start manufacturing soldering robot and screwdriver machines.
2018, HK company established.
2019, Huizhou factory established, due to expansion.
2020, Business expansion again, products covering PCB depaneling, PCB soldering, screwdriver system, etc.
2021, Our machines cover all Chinese market and also popular in America, Europe, South Asia, East Asia, etc.
Our Service:
1. Guarantee for 12 months.
2. Maintenance for whole life.
3. We will provide the consumable parts at an resonable price.
4. 24 hours x 7days online service, free technical support.
5. Machine has been tested before delivery.
6. We have manual instruction and Guiding Videos for installation, operation and machine's using and maintenance.
7. Oversea on-site installation and trainning is available.
8. Vacuum &amp wooden case packaging is provided free of charge for sea shipment.